July went by a lot quicker than June did! I also read less. Overall I think I read some pretty good books this month.
This month I managed to read 10 books. I'm proud to say that I'm officially 1 book ahead on my 100 book challenge!! As long as I can maintain the same pace that I read this month, I'll be in the clear come December.
BookTubeAThon happened this month! I have a feeling that if I didn't have a readathon pushing me this month that I wouldn't have read as much as I did. I'm starting to get slumpy again thanks to World of Warcraft. It happens every year around this time.
What I read
Perfected by Kate Jarvik Birch (Perfected #1) ★★★★☆
Tarnished by Kate Jarvik Birch (Perfected #2) ★★★☆☆
The Shining by Stephen King (The Shining #1) ★★★★★
The One and Only Ivan by Katherine Applegate ★★★★★
Everything, Everything by Nicola Yoon ★★★★★
Crenshaw by Katherine Applegate ★★★☆☆
GALS! Vol 1 by Mihona Fujii (Gals! #1) ★★★★☆
Half-Blood by Jennfier L. Armentrout (Covenant #1) ★★★★☆
Daimon by Jennifer L. Armentrout (Covenant #0.5) ★★★★☆
Attachments by Rainbow Rowell ★★★★☆
I read a few books that were much longer than I anticipated (because the font was so small!) so I think that's why I felt like I read more than I actually did.
This isn't reading related, but it is "I'm proud of myself" related! I started actively trying to get myself in better shape this month and I've lost 9 pounds in July! YAY!!!! OK, enough non-book related stuff.
Favorite BOok of the month
My favorite book of the month goes to The One and Only Ivan by Katherine Applegate. This book was beautiful. Not only did it have beautiful writing, but the story and message were absolutely gorgeous. It's very rare that a book makes me cry – this book got me twice. I am so glad that I read this book. It will forever hold itself as one of my favorite books of all time.
biggest surprise of the month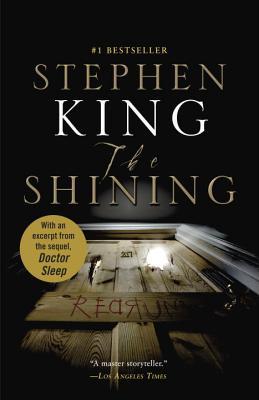 My biggest surprise of the month goes to The Shining by Stephen King. This was the very first horror movie I ever saw. I was in middle school and I watched it at a sleepover with my best friend while we were home alone. About most of the way through the movie her parents decided to start messing with us by scratching at the windows and calling the house phone and breathing heavily. We, obviously, didn't handle that well. Needless to say, The Shining is by far one of my favorite horror movies. I was surprised to find out that the book was very different than the original 1980 Stanley Kubrick film (he definitely took creative liberties). I haven't seen the 1997 ABC mini-series yet, so I wonder which work they adapted it from – the book or the original movie. The reason that this was my biggest surprise was not because I was surprised that I'd love it (cause I knew I would), but because I was surprised at what I read.
What were some of the books you read this month? Were any of them a standout favorite?